Quick Reads
Photos: Warkaris on the move to meet their beloved Vitthal after 2 years
Here are a few glimpses of the day, as Warkaris rest for a day in Pune, near Palkhi Vithoba Mandir in Bhavani Peth.
Anushka Vani, Oliviya Kujumon, Pune | It has been two years since Pune last welcomed Warkaris, the stoic devotees of Vitthal, who walk to Pandharpur from different parts of Maharashtra every year, before Ashadi Ekadashi. Lakhs of Warkaris reached Pune last evening after a long gap of two years, that they had to take due to Covid pandemic. Amid the lightly drizzling rains and the looming threat of another Covid wave, city authorities ensured that the warkaris have a safe and pleasant stay in the city. Punekars also contributed to ensuring that the warkaries are comfortable by arranging food and shelter spaces where the devotees can halt and have some rest. Here are a few glimpses of the day, as Warkaris, on their way to meet their deity, rest for a day in Pune, near Palkhi Vithoba Mandir in Bhavani Peth.


Warkaris gathered outside the Palkhi Vithoba Mandir in Bhavani Peth.
The fifth generation of the Tembulkar Family, led by Mahadev Maharaj Tembulkar. The family is travelling with a group of 150 people. It is their family tradition that has been followed for around 70 years. They are from Nevari, Sangli and are happy to be here after a two-year break from the Covid-19 pandemic.
It's common among warkaris to carry their professional appliances along as they walk to Pandharur so that they can help fellow pilgrims with their skills. Her is a barber having a busy day. Warkaris used their day of rest in Pune to get his services. The next halt will be in Saswad.
Pune Municipal Corporation has arranged for various facilities such as washrooms, drinking water and cleaning drives every one hour so that the warkaris do not face problems on their way. Two years of Covid pandemic and increasing cases at the moment has emphasised the need to ensure cleanliness in wari.
Symbiosis International Deemed University Hospital's mobile medical clinic was stationed in Bhavani Peth to failitate the warkaris with medical care. Symbiosis provides medical care to warkaris free-of-cost every year. It's the painkillers that the warkaris need the most, volunteers say.
Anandrao Shreedhar Kachre holding onto the Veena (musical instrument holy to the Warkari community) which is not supposed to be kept on the ground until the wari reaches Pandharpur.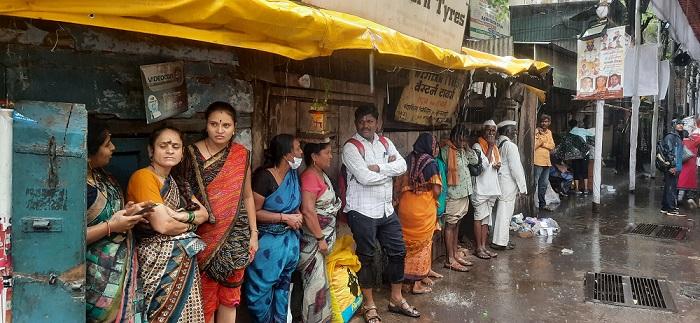 Warkaris seeking shelter from the rain as they wait in a queue for their turn to seek blessings. They say it is a part of their journey and a little rain won't stop them.