India
Reportage: As Nandigram goes to vote on Saturday, political winds stay unclear
People seem divided over who they'll choose to vote for in the upcoming Assembly Elections.
In the small village of Amdabad, which is even difficult to locate on Google maps, in West Bengal's Purba (East) Medinipur district, people seem divided over who they'll choose to vote for in the upcoming Assembly Elections. However, 'Didi hi aayega' (Didi will be back) seems to be the most common opinion of them all. Amdabad is part of West Bengal's most talked about Assembly seat this time - Nandigram - where West Bengal Chief Minister Mamata Banerjee is contesting against her once protégée Suvendu Adhikari who has entered the Bharatiya Janata Party (BJP) this time.
The people of this village do have real-life problems. It doesn't have proper transport connectivity except for the 'Totos' (e-rickshaws commonly seen in Bengal) which are available at the nearest villages with bus stops, that are at least 10-12 kms away. It's a village of farmers and inland fishermen that was affected by Cyclone Amphan that hit India's coast badly last year. The villagers say that they hardly got any compensation that was promised to them.
"Kuchh bhi paisa nahin mila," (We didn't get anything) says a man from the village who usually works in Kolkata as a contractual labourer whom we met as we travelled to the village. "Abhi BJP degi saara paisa." (Now BJP will give us the money.) He says indicating his support for the party that is trying to gain power in the state for the first time.
"Arey Suvendu hi toh kha gaya poora paisa." (But Suvendu is the one who hogged all the funds) our Toto driver says cutting the first man. Adhikari was the TMC MLA in Nandigram in the last term. But the first man doesn't give up. "Abhi BJP mein gaya hai, toh paisa leke aayega." (He's in BJP now, he'll bring money.)
Photos- Shubham Karnick
However, TMC supporters can be seen flocking around with TMC flags and shouting 'Khela Hobe' (Game On), the most popular slogan in Bengal this election. When asked why they support TMC, they say it's because Didi is the pride of Bengal. They don't want to talk about Amphan, they certainly don't want to answer any other questions. Any person in the village, in fact, is quick to give a list of what Didi has done for Bengal. They say their lives would be better if Didi wins in the state once again. How I ask them, they say again, because she is Bengal's pride. She understands Bengal.
Adhikari has the advantage of being the candidate from Nandigram itself, something that is being used by the BJP to its fullest in its campaign against Banerjee in the constituency. In fact, the outsider-insider debate has been at the heart of the election campaign in the state right from the beginning this time. BJP is the outsider party, the party that is seen as fielding defected candidates from TMC alongside the rallies by the Narendra Modi-Amit Shah duo and promises of implementing the Citizenship Amendment Act (CAA) in the state which shares borders with Bangladesh. In TMC's speeches, BJP is a party of 'Mir Jafars' and is not to be trusted.
While Nandigram's hot seat has been in focus due to the political rivalry between Banerjee and Adhikari, there is another candidate in the constituency - Minakshi Mukherjee of the Communist Party of India (Marxist). While the hopes of the Left's revival in Bengal have been predicted to be meagre this time around, Mukherjee has certainly not gone unnoticed in her constituency, which is battered with a history of violence from the time Left was in power there.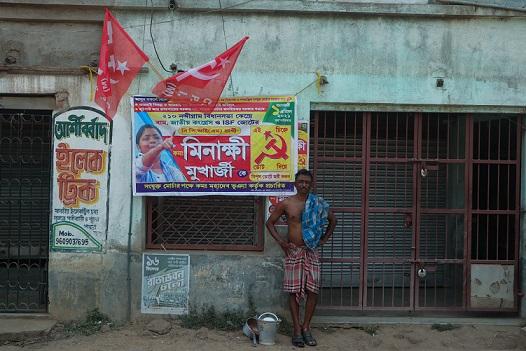 Photos- Shubham Karnick
"We are voting for Minakshi," says a middle-aged woman in a locality near the Amdabad High School. Why I ask. "We have always voted for CPM. Minakshi is good. We will vote for her," she says in Bengali, as a man standing next to her translates. They are all waiting near the small CPM office in Amdabad for Minakshi's rally. Minakshi is one of the young faces CPM has fielded this time, people who have come from the ground, who have worked closely with people through student organisations.
As we set to travel back to Kanthi for a rally in the Toto, the driver asserts. 'Didi hi aayega. Didi hi hamara sabkuchh hai.' (Didi is everything). And this seems to be a theme across several major seats in the state. The entire campaign revolves around Didi. With several sitting MLAs defected and many leaders facing corruption charges, TMC is running the entire campaign on Bengali identity and pride.
Nandigram's population goes to vote tomorrow, on March 27th, in the first of the eight phases of elections in the state. The fate of the seat will be sealed tomorrow for another month until the results are declared on May 2nd.