Quick Reads
In Remembrance of Girish Karnad
Karnad's legacy will surely stand the test of time.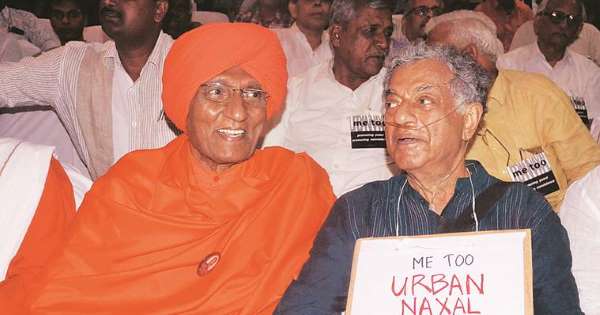 The heart-breaking news 'Veteran playwright and actor Girish Karnad passed away on Monday at the age of 81 after a prolonged illness in Bengaluru' has deeply saddened and literally broken many of us. We know Girish Karnad through his plays, as most people do. Being the students of literature, we never had the grace to see him in person; though we've passionately read some of his plays and also watched Naga-Mandala staged at Pune.Girish Karnad was born in Matheran, Maharashtra in 1938. His family later moved to Karnataka.
The memory of the play 'Naga-Mandala' splendidly performed at Yashwantrao Chavan Natyagruha, Pune by Chandigarh based theatrical group is still fresh in my mind. Apart from his theatrical work, he, a sensitive liberal man, always took an active part in social campaigns such as 'Not In My Name' and 'Me too urban Naxal.' He firmly demanded decriminalization of section 377.
Not hesitant of his politics, he strongly came out to defend the secular and democratic fabric of the country. The nation, he always adored. He never feared to speak truth to power. Be it in the early sixties or in the current regime. His critically acclaimed play, Tughlaq, though not an allegory but did draw a parallel political disillusionment. In recent time, he fearlessly came out and held a mirror to the power. The opening of Tughlaq can still find a perfect allegorical place in our mind. Let us quote a couple of dialogues and then you read it yourself.

"Old Man: God, what's this country coming to!

Young Man: What are you worried about, grandfather? The country is in perfectly safe hands—safer than any you've seen before.

Old Man: I don't know. I've been alive a long time, seen many Sultans, but I never thought I would live to see a thing like this."
This undoubtedly does draw a parallel sketch of our time too. Such is the eternal beauty of Girish Karnad's writing.
In the morning, physically he left us to mourn; something that he'd never like us to do. Not only the theatre fraternity but also the people all over the world mourn his sad demise. Whenever we talk of the Indian Theatre, we obviously tend to look at the regional theatres. A few names quickly come to one's mind and those are of Mohan Rakesh who wrote many mythical and realistic plays in Hindi, Badal Sircar who wrote expressionistic and realistic plays in Bengali, Vijay Tendulkar who wrote realistic plays in Marathi and Girish Karnad who handled various themes and techniques in Kannad.
Karnad, a significant dramatist, was the last star of that era of theatre. No one can deny the fact that He was one of the outstanding Indian dramatists, who beautifully and classically employed regional myths in his plays, such as Hayavadana and Yavakri, to reinterpret the modern society. A multi-talented personality, Girish Karnad had acted in many critically acclaimed plays and over 70 movies. Although the so-called 'news media' knows him only for his acting in 'Ek Tha Tiger,' he, being a recipient of Jnanpith Award (1998), was also conferred the Padma Shri in 1974 and the Padma Bhushan in 1992. During 1974-1975 he also served as director of the Film and Television Institute of India and as chairman of the Sangeet Natak Akademi during 1988-93.
His plays have indelible impacts on the Indian audience and would continue to do so in the years to come. He immensely contributed to the development of the Indian theatre. He along with others brought the international visibility to the Indian theatre. Yayati (1961), his first play is about a mythological king. Among the best known, Tughlaq takes us in the 14thcentury and pits us against the ambiguities of Tughlaq's dominant character.
Hayavadana (1971) is based on Thomas Mann's novella 'The Transposed Heads, which is inspired by the 11th-century Sanskrit text Kathasaritsagara. In Hayavadana, he made the best use of the folk theatre form of called Yakshagana, which is a traditional theatrical technique that combines dance, music, dialogue, costume and make-up. Naga-Mandala (1988) based on a folk-tale. Historical, Taledanda, first staged in 1990, set in the backdrop of a radical reform movement. And his last play, Rakasha Tangadi, 2018, is a historical play about the war of the Vijayanagara Empire.
Girish Karnad quite clearly understood that the myths, in an Indian context, have kept evolving over a period of time and therefore could fulfil the requirement of the author. An extract from Northrop Frye's essay 'Literature as Context' could better explain the myth. '…myth for the author becomes much the same thing as Aristotle's mythos, narrative or plot, the moving formal cause… the soul of the work…' In short, the soul of some of his plays is undoubtedly the non-static myths that allowed him to reinterpret the complex modern society.
As we've thrown a brief light upon many lanes on which Karnad has prolifically travelled to the success. His cinematic journey is another success. Samskara (1970) is the entry of Karnad's cinematic career. He himself wrote the screenplay and played the protagonist character of the story. He received the national award for Vamsa Vriksha, a Kannada film. Apart from Kannada films, Karnad was often seen in many memorable roles in Hindi, Marathi, Telugu and other languages.
In Nishant (1975), Karnad stands out with debutant Naseeruddin Shah and Smita Patil. In Manthan (1976), he played Dr Rao, the character inspired by Verghese Kurien who led the Milk Revolution in India. Later he was seen Swami, Sampark, Apne Paraye (1980), Umbartha (1982), China Gate (1998), Iqbal (2005), Dor (2006) and 8*10 Tasveer (2009).
Girish Karnad was really an all-rounder personality. Even after getting his name embossed in the list of outstanding actors of parallel cinema or art films, he never mocked the mainstream masala Hindi films. He had also been a part of such Hindi films. Ek Tha Tiger, Shivaay, Tiger Zinda Hai. He played very diverse roles of a schoolmaster, doctor, Inspector, Zamindar, Officer to the politician.
The final exit or adieu he made is surely not an end of his legacy, but truly none can fill the vacuum that has unfortunately been created after his death. His plays are the finest mixture of myths and history but always hint at the restless present. He, therefore, is the present. Let us dare say, the present never dies.

Satish Gore teaches English Literature at Nowrosjee Wadia College, Pune.
Snehal Warekar is a student of English Literature and also an editor at The Dempost.